This year I didn't get into the Nike half through the lottery system. After I was denied entry I moved on and signed up for the
RnR Half
. Then I was contacted by Nike in February with the opportunity to register and decided to sign up. Between the RnR half in mid March and Nike in late April I only ran one long run, a ten miler two weeks out that went fine, but totally wore me out. Its safe to say I'm burnt out on long runs and will be focusing on short faster runs for the next few months.
Like
last year
Nike had some really fun details at the bib pick up and expotique. When you walked in to the expotique a big screen lit up with your name and a little message. They gave specialized hair ties according to how many miles we had logged with Nike +. I got blue ones! They also had gait analysis, sign making, hair braiding, and some luna bar samples. My coworker who also ran the race went with me and we headed up to the Nike store afterwards to join the run club and do a little shopping. We got a free headband at the store and had a champagne toast after the run.
Joan Benoit Samuelson
was on the run and ran beside me for a few minutes. We chatted about Boston Marathon recovery, running with a cell phone, weather, and she asked me to hold her cell phone while she took off her long sleeve shirt. So first time I've held the cell phone of an olympic gold medalist.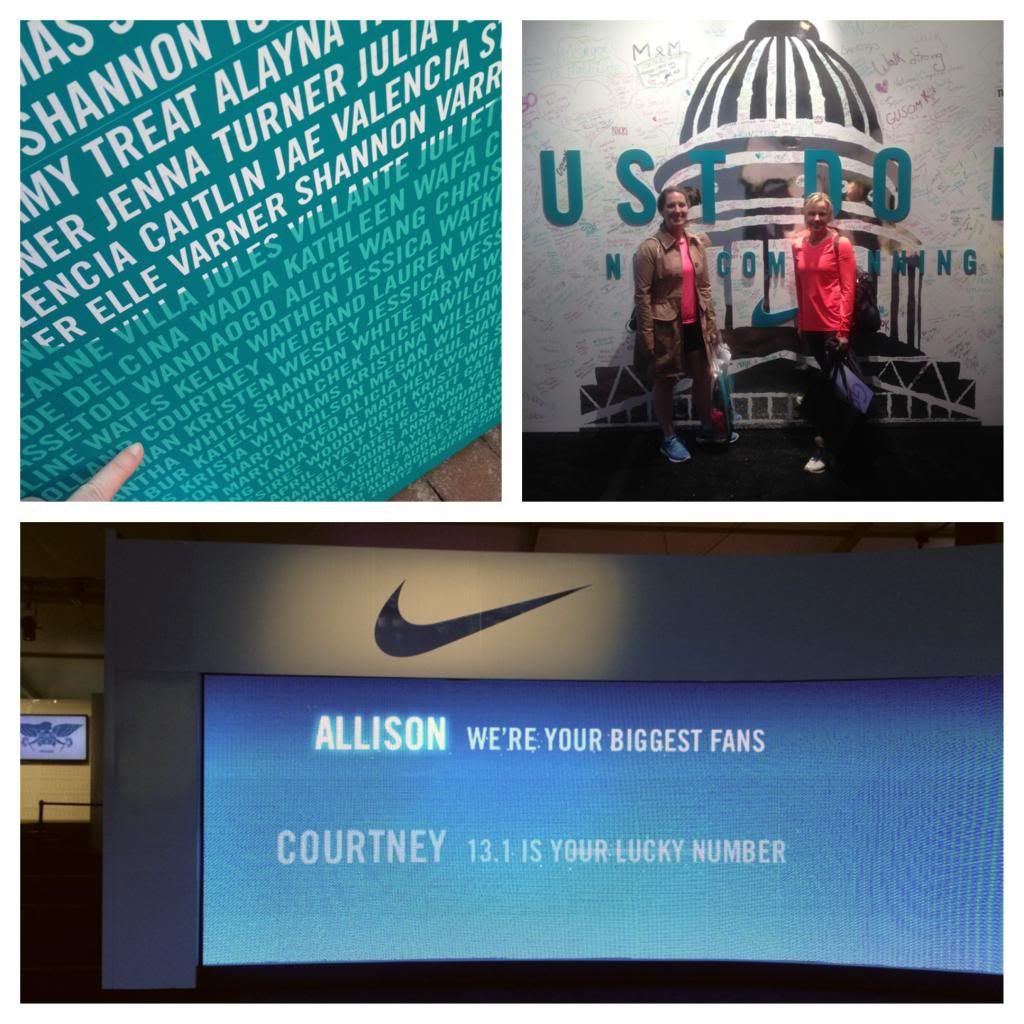 The morning of the race went smoothly as possible. Great weather, great bag check, tons of toilets, and only a little crunch entering the corals.
Soon we were off. Nike changed the course in two spots from last year. They were both great changes. Instead of heading down to the Capitol building at the end of the race we headed there first. In no time we were heading back to ninth street with a mile down. We still ran through the tunnel under the Mall at 9th street, but since I knew it was coming it wasn't as bad.
From there we ran along the south side of the Mall and across Arlington Memorial Bridge. After the loop around we headed back towards Rock Creek Parkway. At this point, around mile 5, my left foot started hurting. A sharp pain under the front of my foot kept throbbing. Every once in awhile it would go away for a few strides only to return.
I just kept running. At mile 6.6 they had a video screen up showing us running with a message across the top about us being half way done. Soon after halfway we headed into West Potomac Park. They put up signs we had made at the expotique. Donna and I had made a sign so I kept my eyes out for it. There were hundreds of signs on both sides of the road so I wasn't very optimistic about spotting it, but I did! That gave me a little boost.
Last year the loop down to Hains Point and back was a bit annoying, so I decided to enjoy it more this year. With my foot still hurting I tried walking and stretching it out at a few of the water stops, but it didn't seem to help so I decided I would just run as fast as was comfortable so I could end sooner. Nike also made some great changes in this area of the race. They bussed in some college students from George Mason and Howard to cheer at the Point. They had amazing energy and one of them was holding a "GO Courtney" sign, which I'm sure was for me.
At mile 10 there was a group from
November Project
cheering. They look like an amazing group, so I'm going to try one of their workouts this week.
Next up was the other change in the route. Instead of going back up the highway ramp to the tunnel we followed the water front. A few of the boats parked in the harbor were honking their horns to help us along. This area was also the "chocolate mile" where Whole Foods was passing out truffles. I didn't take one, not exactly the ideal conditions for me to eat chocolate, but maybe I should of saved one for the finish.
Then back through the tunnel. As we exited the other side they had another sign that was displaying our names and cheering us on as we were passing by. Again there was another turn away from the finish line before heading back, but I was able to kick my pace up a notch for this last mile and bit.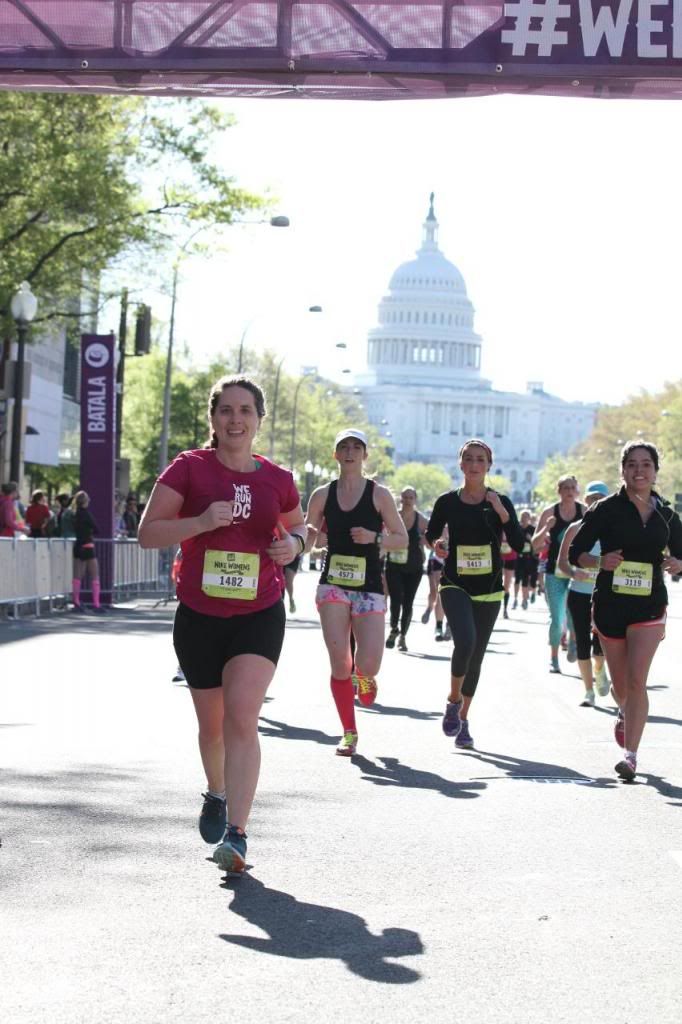 Approaching the finish line
Instead of photographers throughout the entire race, they had photo zones where they took our photos and gave them to us for free!
I finished in 1:57:25
268/1,926 of Females 30-34
2,101/14,316 of Females
2,228/14,794 Overall
Well branded
I really like the necklace this year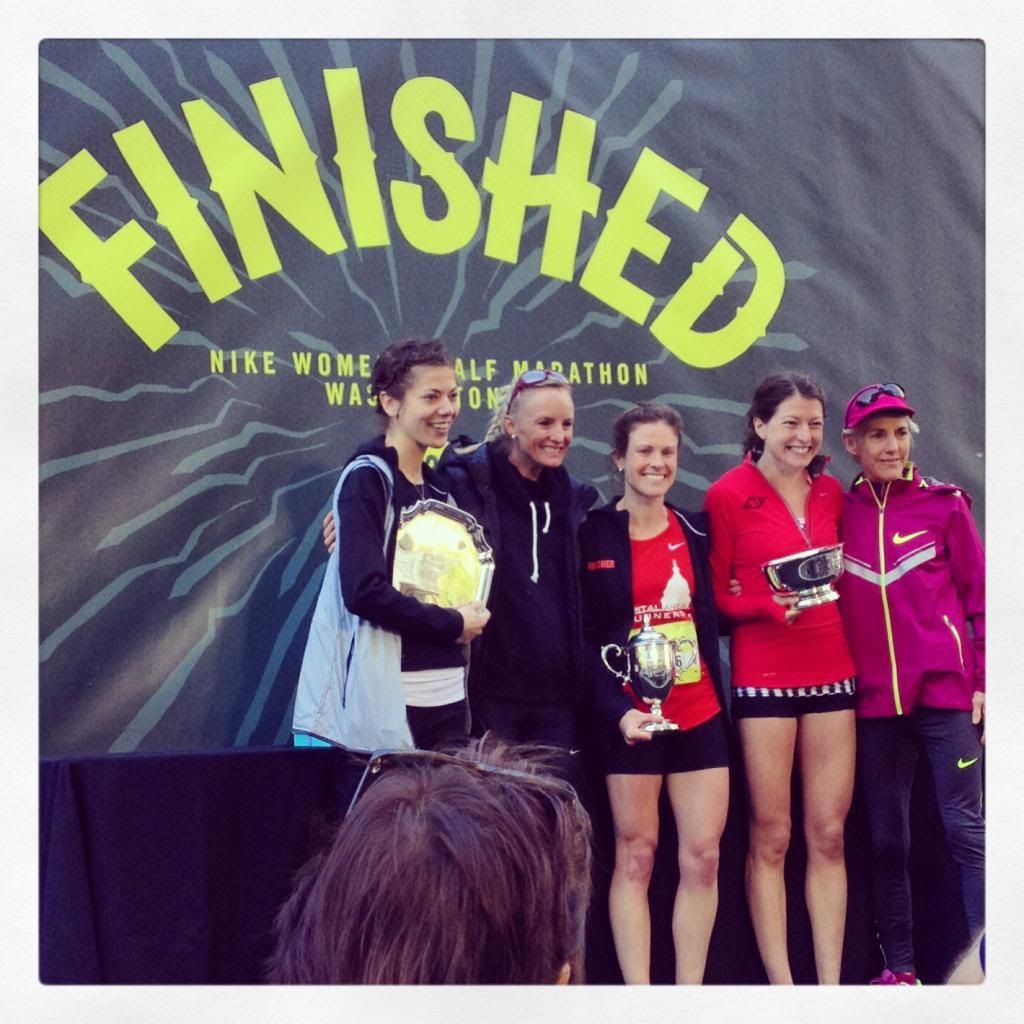 Winners with Shalane and Joan
First place finished in 1:20!