Last weekend I jumped in a car with two friends and we caravanned with two other friends to West Virginia. We had purchased a living social adventure deal for a weekend of camping and rafting. After 6 hours of driving and gas stations and a Wendy's we arrived at the campsite near Beckly, WV. We checked in with the Living Social crew and they hooked us up with a sweet "rustic cabin" near the bar.
Being it a Living Social Adventure I was a little worried that the crowd would be rowdy 21 yr olds, but it really wasn't there were people from 21-40 and couples, big groups of friends, bachelor parties, and families.
The first night we had two free drinks at the camp bar where they had live music and we chatted with some of the other campers. It was Jenn's birthday so we had cake by our cabin and hung out with other campers around the camp fire.
Saturday morning we didn't have to meet for the river till 10 am so we took our time getting up and getting breakfast. The weather was pretty nice, but since we were worried about the water temperature we all rented wetsuits, geared up and hit the river.
Our guide was a seasonal guy from Cincinnati, he was really cool and very good at guiding our boat. We only had one person fall out and we got her back in within seconds.
They took video of some of our trip and was playing it on the tvs around the campground. The picture below is a picture I took of the tv.
me on the front right
After about 5 hours of class 5 rapids (haha ok... there were some 1,2,3 &4s too) we cleaned up and headed to our BBQ dinner at the camp restaurant.
PBR
After dinner we headed to the camp bar where everyone was hanging out and they had an open PBR bar from 6-10 pm.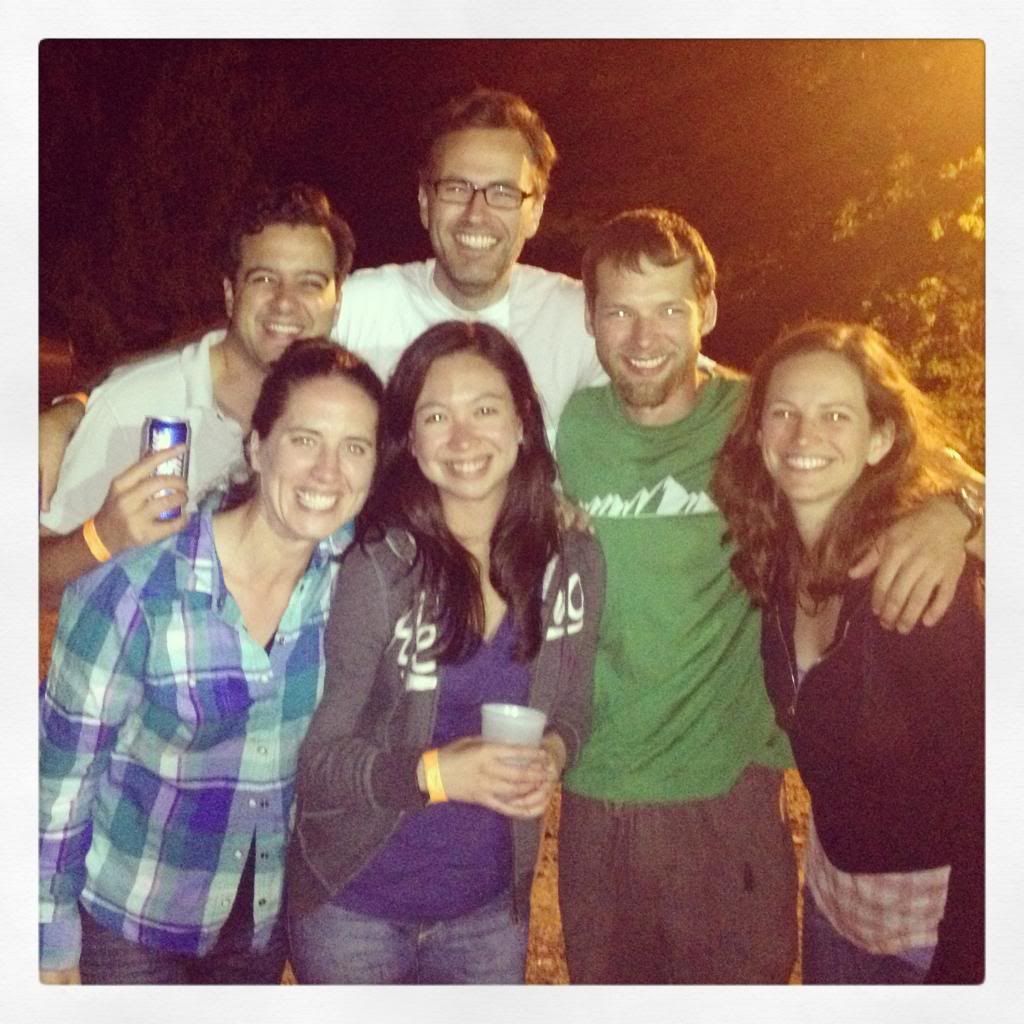 The next day we had breakfast at a cute cafe in the neighboring town.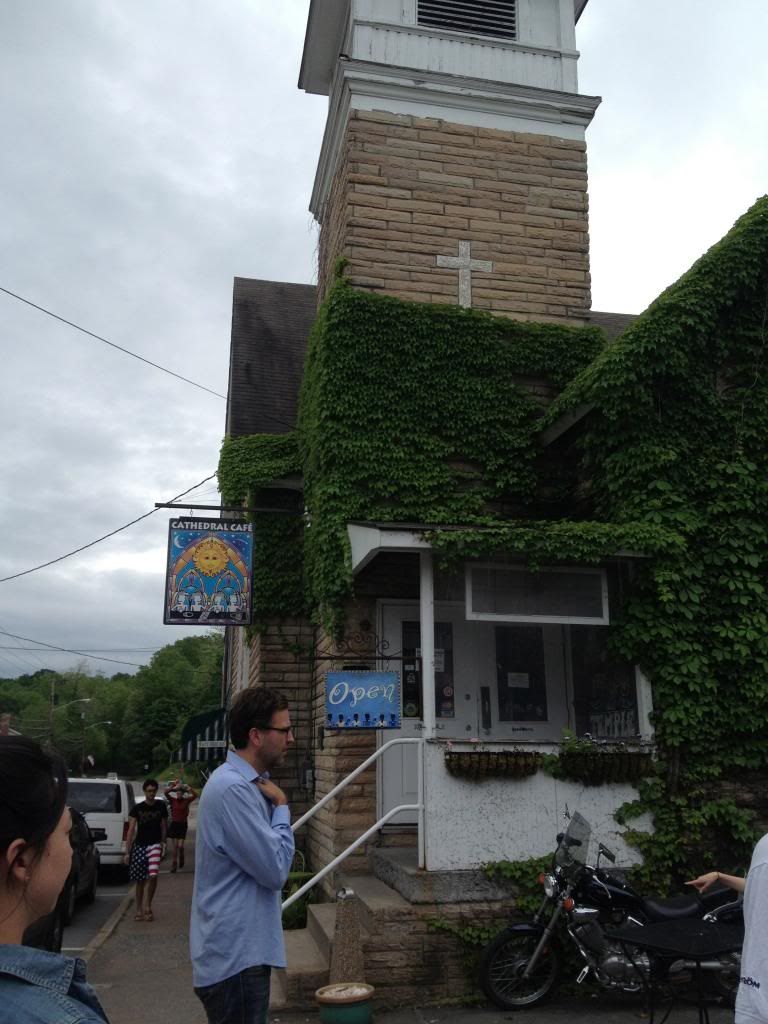 hmmm should we eat here?
That was previously a church.
from the balcony
We stopped in a store down the street and found it empty with the following sign: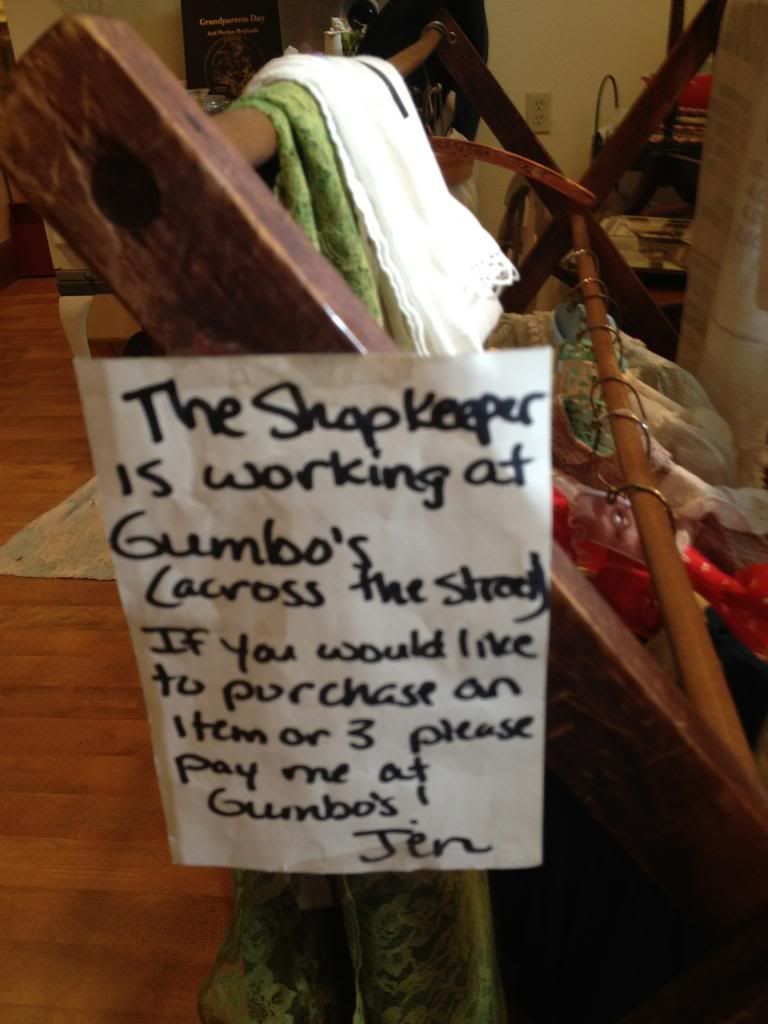 trusting West Virginians
On our drive home we stopped in this White House to use the restroom (aka The Greenbrier).