Yesterday was the Rock 'n' Roll USA Half Marathon here in DC. I signed up for this race in early fall when I was racing every weekend and noticed that the early sign up discount was very significant. Apparently the race used to be called the Nation's Half, but was bought by the Rock 'n' Roll group a few years ago. There was a marathon option, but I'm not yet ready to go there.
They switched up the course this year so that the start and finish were at different places. Lucky for me the start was an easy walk from my apartment. Even so my friend Becky, who had stayed over, and I had a difficult time getting up and ready at 6 am. We ended up arriving at the starting area less than ten minutes from gun time and still needed to check our bags. I was in corral 7 so was a little worried about missing my start, luckily my friend agreed to check my bag for me as her corral was in the 20s.
I got in place just as they were singing the National Anthem and soon we were moving up towards the start as they counted down for each corral's start.
This was just my second Half Marathon so I was filled with nervous energy. With my first Half my main goal was to run the entire race and finish and my stretch goal was to finish under 2 hours. Since I achieved both goals this time I made some tougher ones. Above all I wanted to beat my previous time so anything under 1:59. My second goal was under 1:50 and that is where I decided to corral myself at the start. My crazy goal was 1:45.
There was 70% chance of rain from 7 to 9am and a smaller chance of rain all day. Needless to say this had me in a slight panic with deciding what to wear. I settled on spandex shorts and a long sleeve shirt for warmth and minimal attire to soak up rain and a hat to keep the rain off my face. Spoiler alert: It didn't rain at all during the race. It was overcast, but no rain. In fact it barely rained all day.
My group started about 10 minutes after the official start of 7:30. Even with the corral start the course was pretty crowded. The weird up and over we did in mile one didn't help with the crowds. The first 6 miles felt great and were run along my normal running routes. Mile 2.5 was especially fun running around the round about at the end of the Arlington Memorial Bridge. There were people cheering the entire way around. Somewhere around mile 5 I ran into the 3:40 marathon pace group and decided to stay with them for awhile. The leaders kept yelling motivating things and giving some strategy advice. As we approached Calvert Hill (about a 100 ft gain straight up) they suggest to not look up till we got to the top, I tried but the hill really slowed me down. Mile 7 was my slowest mile of the race, not only because of that hill, but there were two more tough hills in that mile.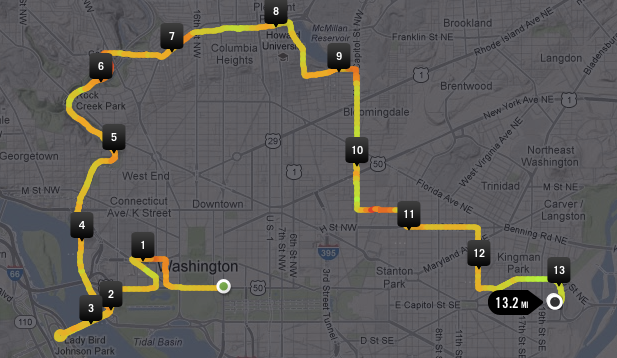 the course
After mile 9 I was in unrun territory. In fact miles 9-12 were in areas of DC that I rarely visit, which means I didn't know how many hills there were (a lot), but there were also several down hills that I tried to take advantage of.
There were several friends that had told me they may be at certain points along the course, but I hadn't seen any of them (mostly because I was earlier than they expected), but at mile 10 I saw my friend Hannah and got pretty excited. The sighting along with a small downhill propelled me for the next half mile.
Mile 12 was a tough one for me. We ran along H street which had lots of people cheering, but it just seemed really long and then we turned for some hills. Around mile 12.5 the marathoners split off from the half marathoners, I had passed the 3:40 pace group by this point, so there weren't that many people splitting off for the full.
Soon after we could see RFK stadium and I got my finishing boost, only we couldn't see the finish line. We had to loop back around for a blind finish, which may of lead me to kick it up a little early, but I wish we could of seen it from further out.
Approaching the finish line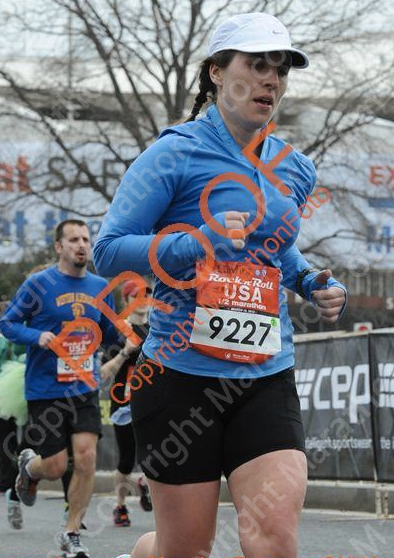 trying to finish strong
I finished in 1:49:14! I didn't get my crazy goal, but I beat my old record by almost 10 minutes and finished under 1:50.
As you can tell by my mile splits below I was a little all over the place. Some of it I contribute to the hills (Mile 7!) other to crowds (Mile1) and probably some due to my stops to get water and what not.
The finish line goodies were fantastic. I didn't have enough hands so I started stuffing my pockets. I got a bagel, a banana, power bars, jamba juice smoothie, water, Gatorade, applesauce, and finally at the end they gave us a reusable shopping bag. I even passed over the apples and chips.
Up until this point the race seemed pretty well organized, but then I went to bag check. The lines were still short at this point, but each bus only had two people trying to find bags, and they were moving very slowly. I waited over 30 minutes and then found out my friend checked my bag under a different spelling of my last name, haha. Luckily as soon as I got to the right line they found my bag pretty quickly and I changed into some warmer clothes.
I wandered around the area for awhile and listened to the bands a little. I watched the awards for the full marathon. The guy that won the entire race was in his 40s and has only been running a few years oh and he is also a NASA scientist. Apparently winning a marathon was on his bucket list, so he was pretty thrilled to get to check that off.
I guess I hung around a little too long because as I headed to the Metro the line was backed up at least two blocks outside of the station. I decided I couldn't deal with the crowds and decided to walk a mile to another Metro station on a different line. The walk was a nice cool down, but I was happy when I finally got home and was able to shower and rest a full three hours after I finished the race.