The Cherry Blossom 10 miler takes place during the Cherry Blossom festival each year. Sometimes there are Cherry Blossoms, sometimes there are not. We hit the Cherry Blossom and weather jackpot this year. The blossoms were at peak bloom and although it was still in the 40s when the race started, it wasn't too cold and I actually found myself over dressed in my capris.
This was the third time I tried to get into the race and I signed up for the lottery as an after thought, so I was a little surprised when I got the email that I was in.
After the RnR DC Marathon I took a full week off from running. I only ran a few times the next three weeks, with the longest run being around 5 miles. I did manage to run some of those runs faster than during my marathon training. So I decided to aim for a 9 minute mile pace.
Brian and I got up early and took an Uber to close to the starting line. We walked over towards the start and heard an announcement that the race would be shortened due to an accident on the course. They announced it would be close to 9.5 miles instead of 10. The crowd seemed mostly happy that they would only have to run 9.5 miles. I felt fine about it at the time, I had no control so best to accept the distance and move on. I had never ran 10 miles so it was going to be a PR, now I would just have a PR for a even more special distance.
I was in the second wave and as expected it was a pretty crowded start. I've ran a lot of big races and I felt the other racers were a little less considerate of other runners than I'm used to. I got cut off several times. The run across memorial bridge and then up rock creek has gotten a little too familiar (I think I need to find some races along some new routes) but knowing the course also makes it go smoothly.
I had heard/read that people thought the run around east potomac park and haines point was boring. I understand that it is kind of like an out and back and those can seem like forever, but I was so distracted by the Cherry Blossoms along this stretch that I didn't really notice how long it took. The trees were absolutely beautiful and practically covering the course in some spots.
According to my I was running a little under 9 min/mile pace so I was feeling good heading in to the final two miles. Unfortunately the last mile contains a pretty good hill and I was not ready for it. I'm usually very good at know exactly where I am in the city, but I got a little turned around coming towards the Washington Monument. Luckily it wasn't far to go and soon I was cruising down a short downgrade towards the finish. I didn't run the tangents so my finish pace was right at my goal of 9 min/miles!
Finish time of 1:25:31 and official distance of 9.39 miles.
The race organizers projected our 9.39 mile times to a 10 mile time. According to them it would of been a 1:31:06 finish, but we all know that I would of kicked it up and finished in 1:30 something.
After the race I grabbed some food and water and Brian and I walked around to look at some of the Cherry Blossoms. They were all perfect, but with the race and peak weekend it was getting pretty crowded around the tidal basin.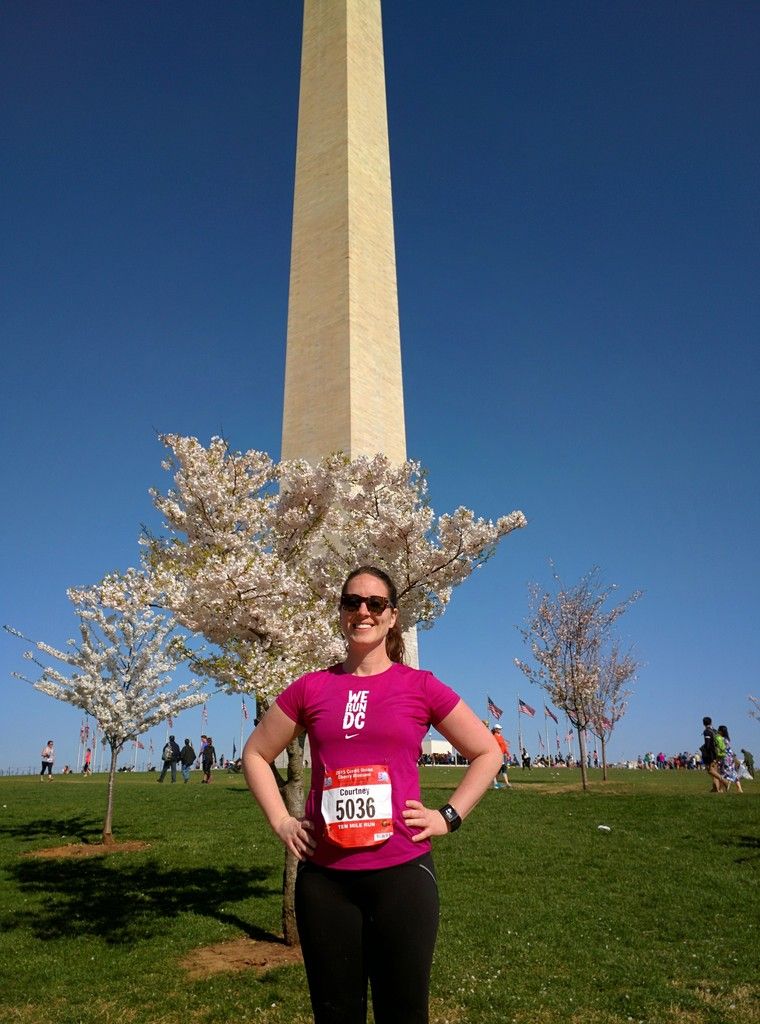 I don't think the weather is usually as nice and it seems the Cherry Blossoms rarely perform this well for the race. Since those two aligned the race gods had to sweep in and shorten the distance. Now I have a PR for the 9.39 distance! I probably won't sign up for this race again next year, but maybe again some time in the future.