My alarm rang at 5:30 am. I got dressed, had oatmeal, water, and a bit of coffee. Even though I had everything set out the night before I didn't make it out the door till 6:15. The race schedule said the bag check closed at 6:40 so I hustled the mile or so to the start line. They had a ton of different bag check areas, which made it super easy and quick. Then I headed up the street where there was no wait for the porta potties, another score for nike.
Then I made my way over to the corrals, which were already pretty stuffed. The first four corrals were pretty close to each other and although I entered at my designated spot (7:30-8:59) I had to duck under the rope for the corral behind mine. We were standing on a plush/clean red carpet and I had a good view of the announcers booth where they had the running celebrities and sang the national anthem.
Although it was in the low 50's I was fine in my tank top and shorts as the sun was out and there was no wind.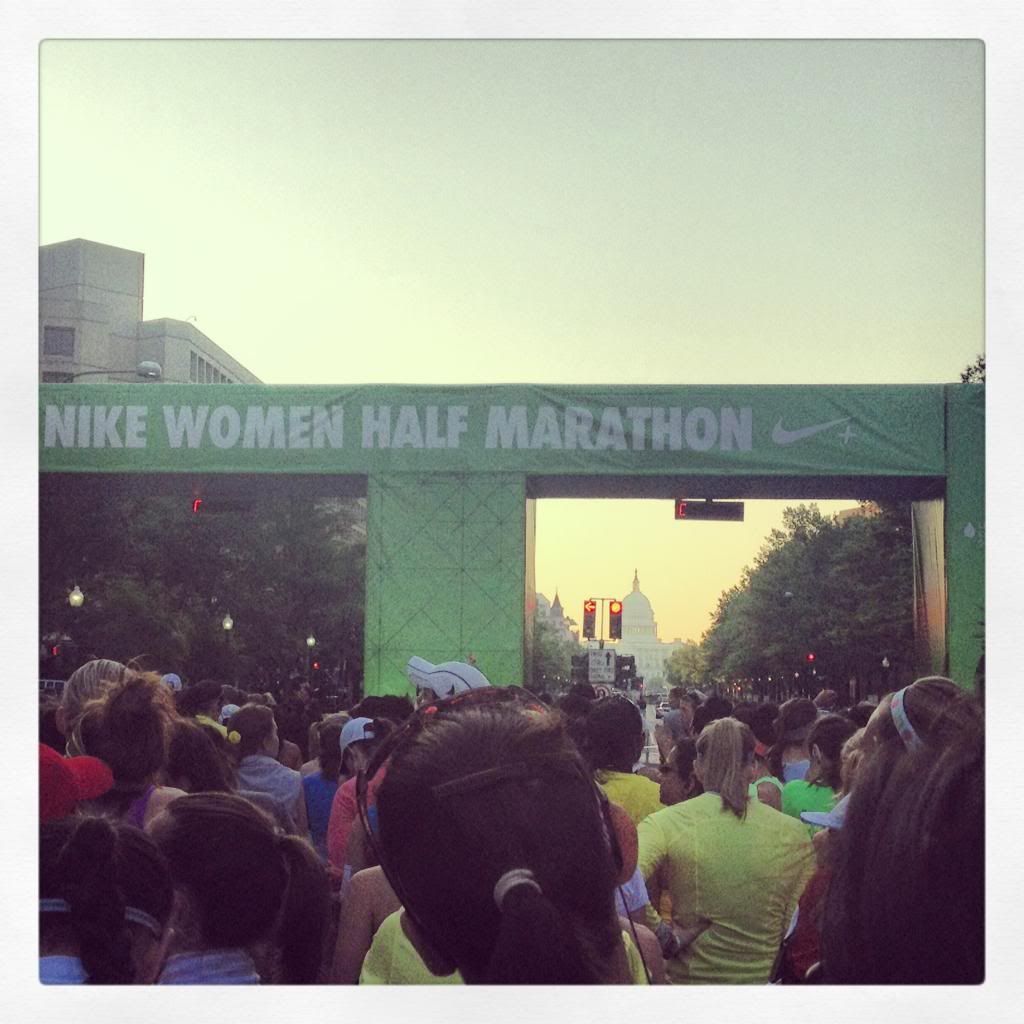 waiting to start
The gun went off and we headed down Pennsylvania towards 9th street. Then something happened that I wasn't prepared for. I should of known better, I run down 9th street every Tuesday, but I didn't realize that we were running through the underpass that goes under (duh) the National Mall. We had a nice downhill into the tunnel, but then I realized we couldn't see the other side and then had drummers in the tunnel. I guess I have some of my mom's claustrophobia because I didn't like being in the tunnel and I didn't like the drums, they were loud and just sounded like someone pounding on pots and pans.
But soon we emerged and headed down the ramp and along the southwest side of the mall. There are a few cherry blossoms left, but mostly green trees as we ran towards the Arlington Memorial Bridge. There were lots of people lining the route, but they were SILENT. Seriously it was the quietest crowd ever. I'm thinking there were lots of men cheering for their ladies and aren't as good at cheering as females... haha. There were clever signs though, like "15,000 running women, this is better than Match.com" and lots of "I like fast women" and "I'm single/he's single" signs.
Once across the bridge I saw my coworker/run cluber friend Bob and gave him a scream. He did a little cheer and ran along side of me for a few feet. For the RnR race a month ago this round about was full of people cheering, this time there were just a spattering of people.
Then we headed up Rock Creek Parkway towards the Kennedy Center. This stretch was fun as it was an out and back and we could see the faster runners heading back. After the turnaround I started looking for my other coworker/run cluber friend, Hannah, who was also running the race. Soon I saw her and gave her a quick wave/scream.
As we headed towards Hains Point we could see people still running over the Arlington Bridge, it was pretty amazing. However at this point, around mile five I started having negative thoughts. I was frustrated that my watch was messed up from the tunnel and I felt like I could keep a consistent pace. Usually I find someone around me to pace with (even if they don't know it) but I couldn't seem to find anyone. So I kept running. As always once we reached Hains Point we hit a head wind. Knowing it would only be a mile and half helped, but when we rounded the point I didn't feel the boost I expected from losing the head wind.
Around mile 7 to 10 Nike had put up motivational signs, which were nice, because there weren't many spectators in that area. And having things to read is distracting. At mile 8 I started to eat the Gu I brought with me. The course was serving lunabars at mile 8, which seemed like a hard thing to eat while running. I ran along eating my Gu as we had to run back up the ramp and back through the tunnel with the annoying drums.
When we emerged from the tunnel back on to Pennsylvania there were lots of crowds, cheering and we could kind of see the people approaching the finish line in the other direction. After a loop around the Capitol reflecting pool we headed back down Pennsylvania to the finish. Somewhere around mile 11 I decided to kick it back up a notch, because I hadn't ran so far at the speed I ran to give it away at the end. The 20K sign showed an encouraging 1:4x something time and soon I could see the finish line. Only we could see the finish line from over 3/4 of a mile away, but gradually I began to reel it in.
Since my watch was way off (said I only ran 12.8 miles) I wasn't sure what my time was, but when I saw the finish line clock was under 1:49 I knew it was good, because I started a few seconds after the gun time.
The finish line was extremely well organized. We had a little bit to walk before we got a water then had our bib scanned and we received our Tiffany's necklace from men in Tuxedos serving the little blue boxes on trays. A few steps more and we had luna bars, bananas, fruit cups, and bagels. Then We got a small Tiffany's bag to put our stuff in. A few more steps and we received our finisher dry fit tee. Everyone in the finish area was congratulatory and extremely helpful and happy.
After the shirt we left the secure area where they then had a Finishers Boutique, stretching area, haircuts for charity, and make-up (not sure who wants make up on a sweaty face). They also had backdrops set up for pictures and a tent to look up your finishing time.
After the bag check mess at RnR I went to grab my stuff. Only there was no line and they found my bag in seconds. Again the bag check people were so excited and friendly.
By the time I got back to the main finish area it had filled up and there were lines for everything.
I caught the awards ceremony. First place was to Samia Akbar a local runner with a time of 1:19:32.
she received a huge Tiffany's box
So when I made my way over to the results tent I found that I finished in 1:48:49!
Its a 25 second PR, but still a PR. I finished 901 out of about 15,000 and 162 out of 2634. So like top 6% in both!
me in the photo booth
After sitting down and stretching a bit I pulled out my necklace and put it on. I like the words side best. The other side is a woman running through flowers, or as an out of towner pointed out to me later... is a woman running through cherry blossoms (hey! I do that!).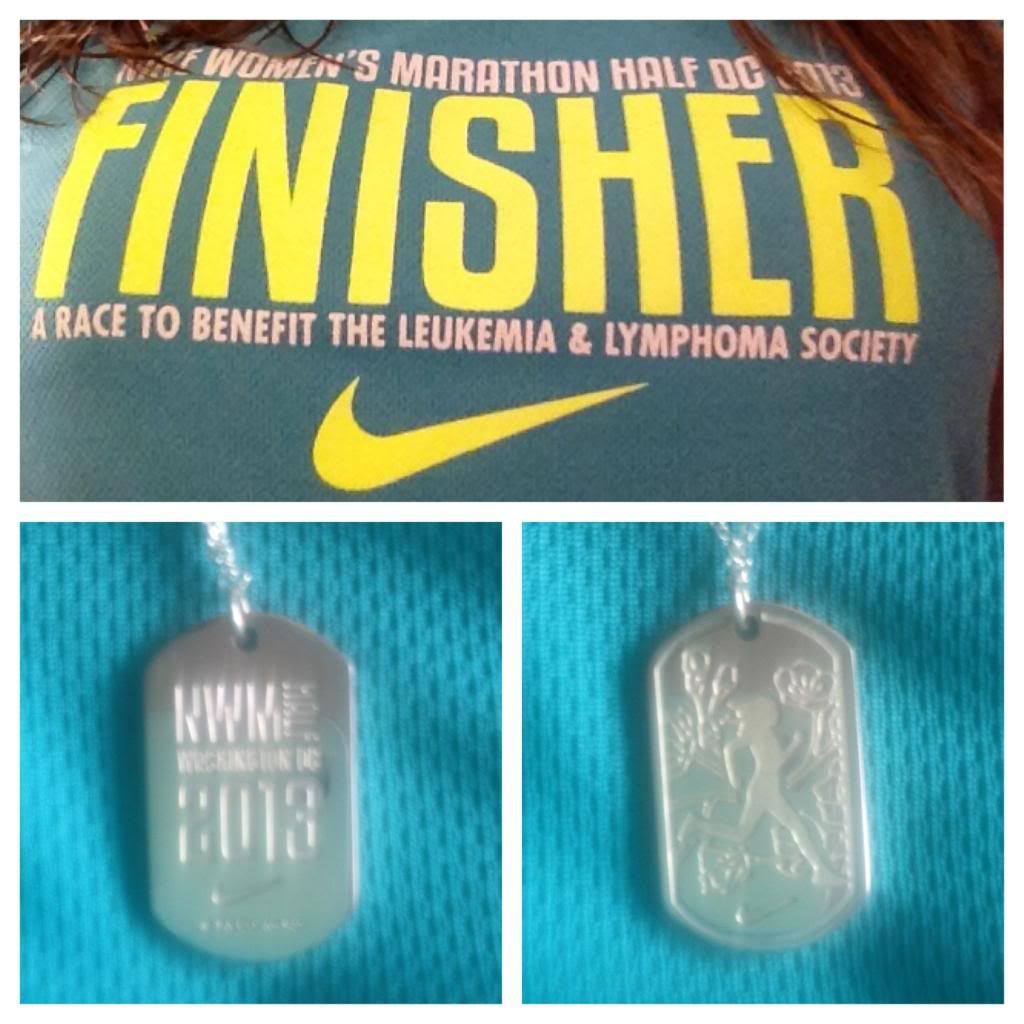 the finisher shirt and both sides of the necklace.
I couldn't find any of my friends so I just headed home after awhile and spent some quality time on the couch as the beautiful morning turned into an overcast gross afternoon.