We flew into Madrid went through customs and then rechecked in to our Vueling flight to Barcelona. The Madrid airport Terminal 4 is beautiful and modern and customs was a breeze. I'm not even sure the passport agent checked to see if I looked like my picture.
arrival in Spain
Our flight to Barcelona was quick and I may of slept most of the flight. Luckily I woke up right before landing and got a nice view of the city. From the airport in Barcelona we took a train right to the neighborhood we were staying in. Transportation was incredibly easy the entire time we were there. All the trains/metros/airports/buses had great signage, were clean(ish) and were on time.
We checked in to our hostel in Sant Andreu a very cute neighborhood outside of the city center of Barcelona. It was more of a house and Kendra and I had a private room. The owner, Jose, was very enthusiastic and gave us a 45 minute introduction to the house and to Barcelona. He told us he loves Americans and Asians the best because we always listen to the entire introduction with smiles while the French cut him off and tell him they already know everything.
After a quick change of clothes we headed back out for lunch at the Spain appropriate time of around 2:30 pm.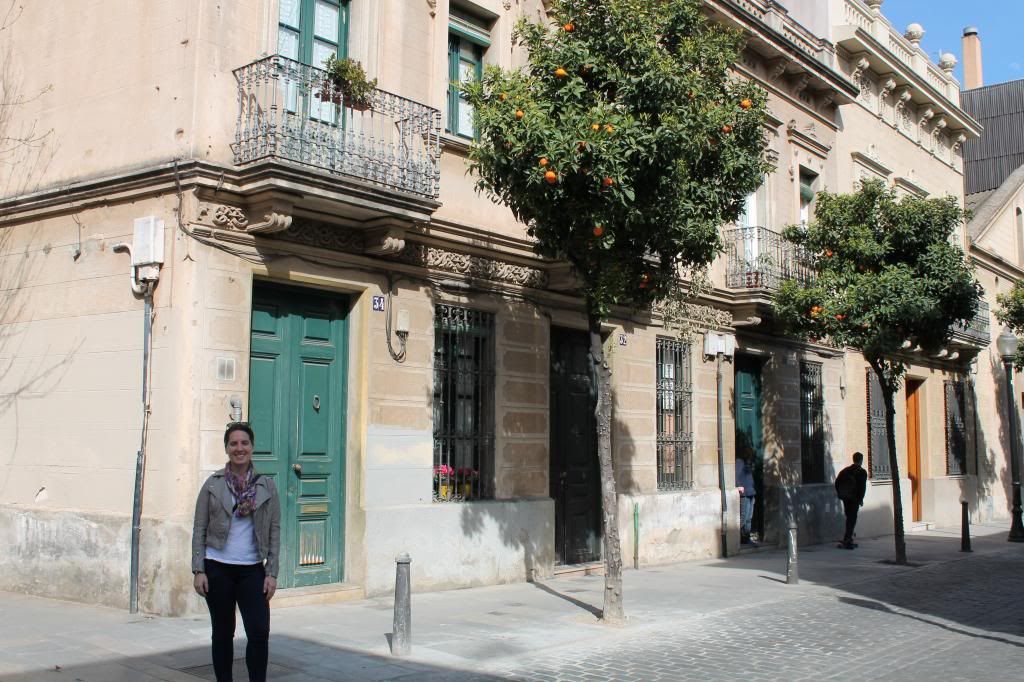 outside the hostel, orange trees!
Jose sent us the a restaurant down the street where we had our first Estrella cerveza and
Arros Negre
, both were delicious.
We took the metro down to La Rambla and checked out the market and the beach.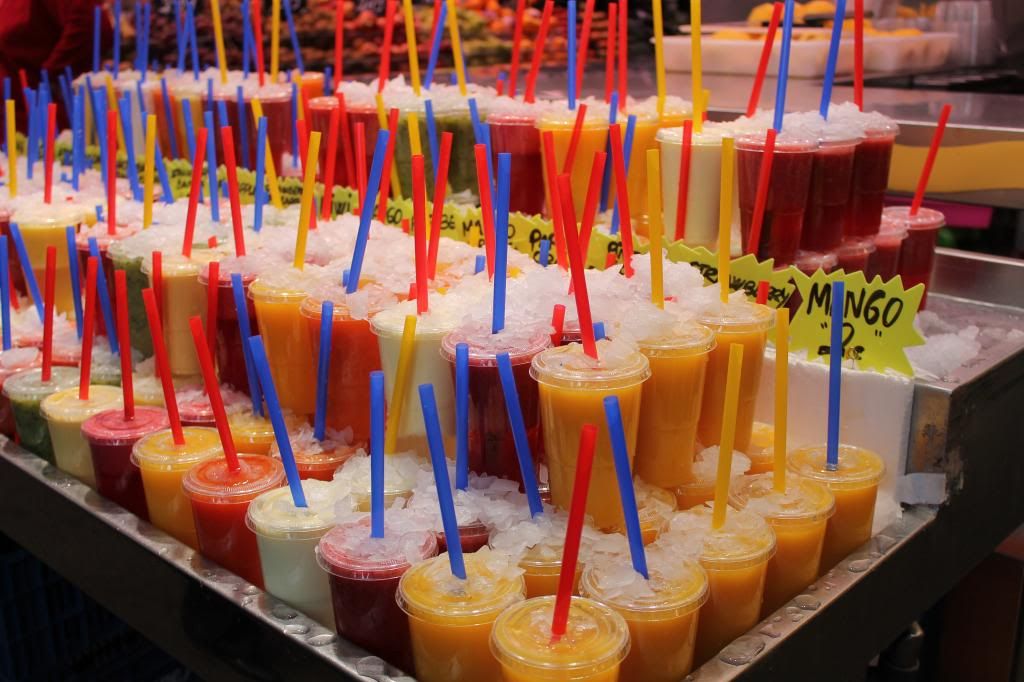 fruit juice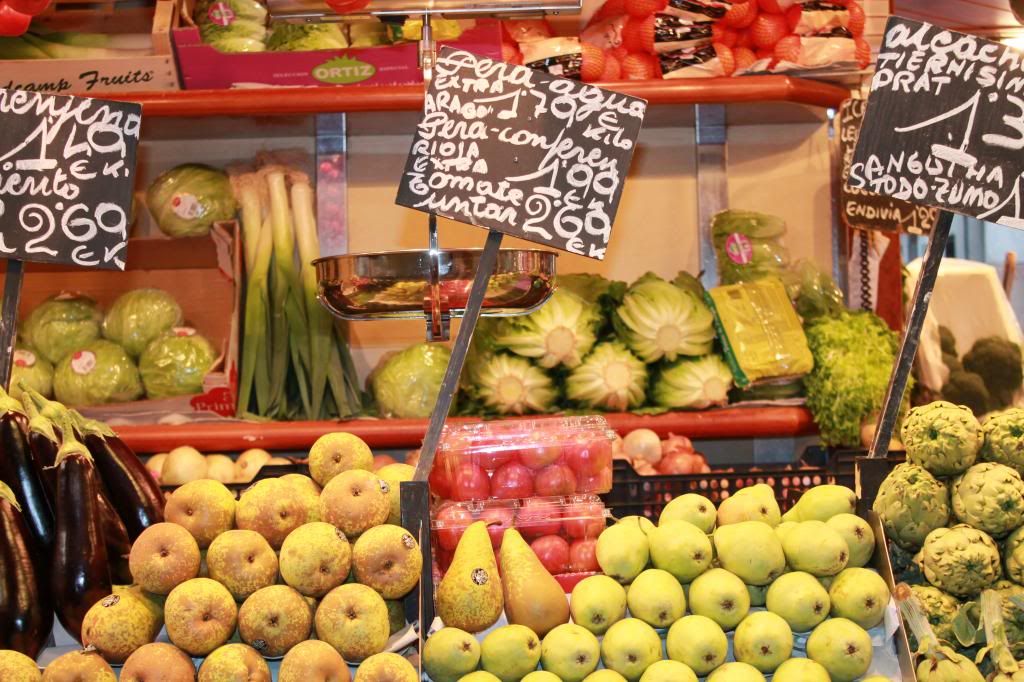 fruit and vegetables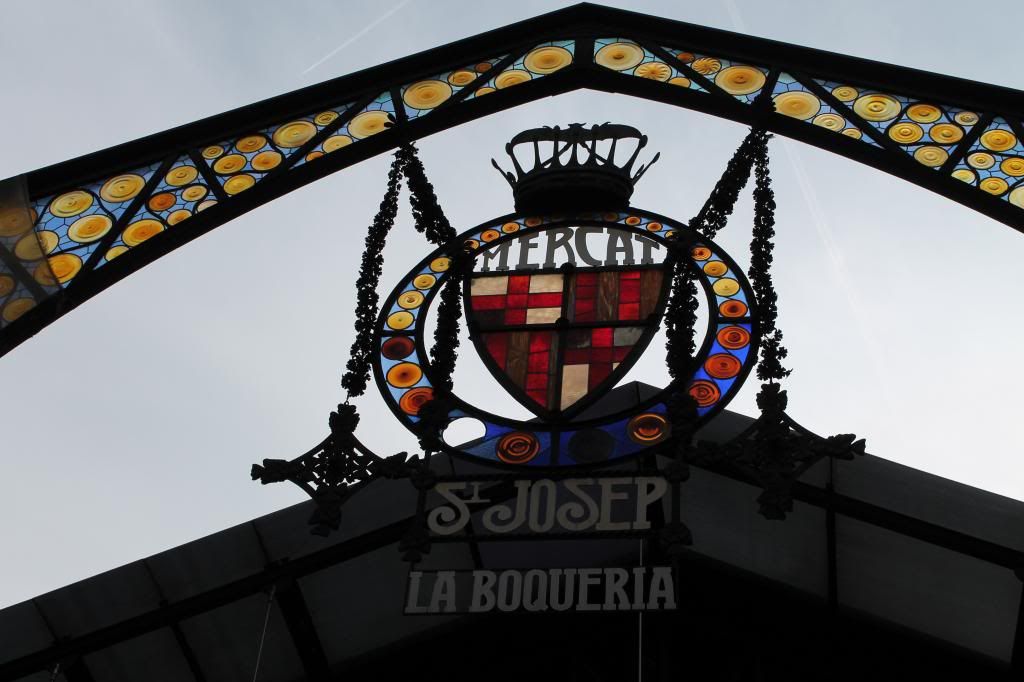 market entrance
La Rambla
As the day went on it got more overcast and chilly. So on our way to the beach we stopped in a bar and had our first of many cafe con leches.
the beach
We were tired early after traveling for a full day. So we stopped by the grocery store and picked up bread, jamon, cheese, and sangria for dinner back at the hostel. It was delicious.