Our train arrived in Granada about two hours later than expected, but that just gave us more gazing out the windows at the Spanish countryside time. Once we arrived we took a cab to the hotel (hey we aren't poor 20 yr olds anymore) checked in and headed out for cafe and croissant. Then we swung by the cathedral. This was the point I was kind of over seeing cathedrals, but while we were waiting in line to get in there was a British couple chatting behind us. I was really listening till he goes "We just need to decide when we are going to Kansas City" and Kendra and I both do a double take. We started chatting and the man had gone to grad school at KU and was going back to visit some friends.
After getting some bocadillos (sandwiches) we headed up to the
Alhambra
. It was bit of an overcast and chilly day, but we didn't have any rain while we were touring the Alhambra so it wasn't too bad.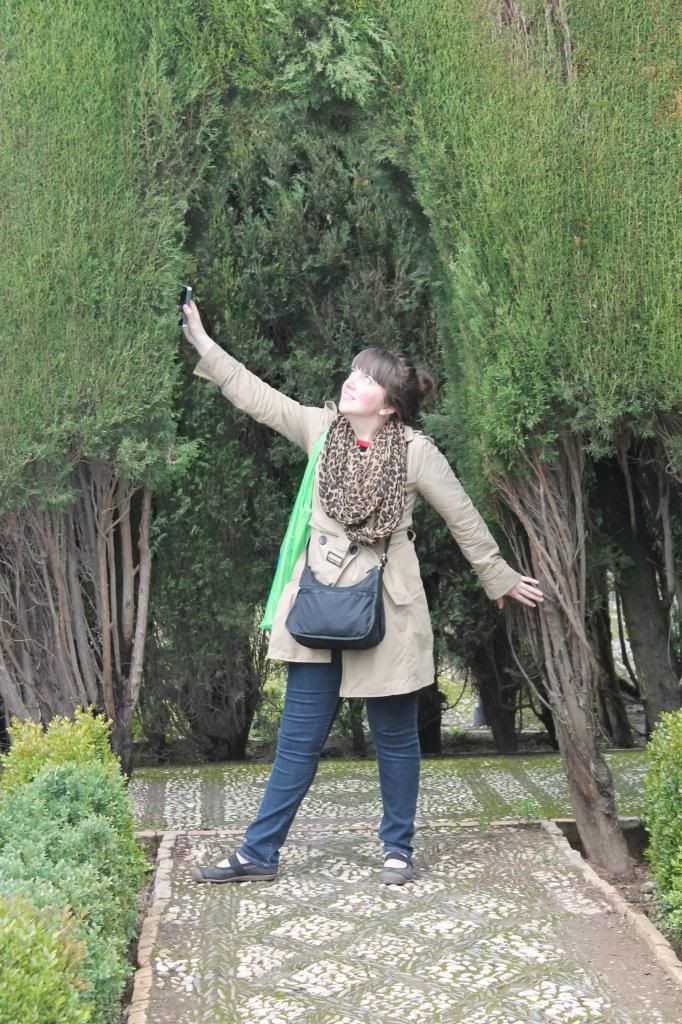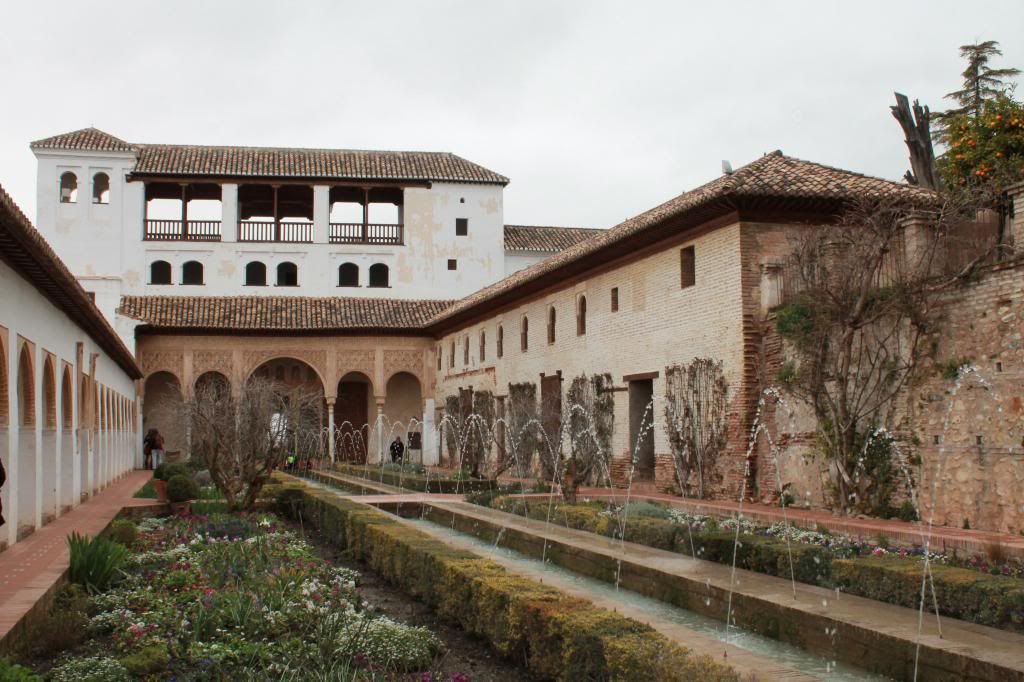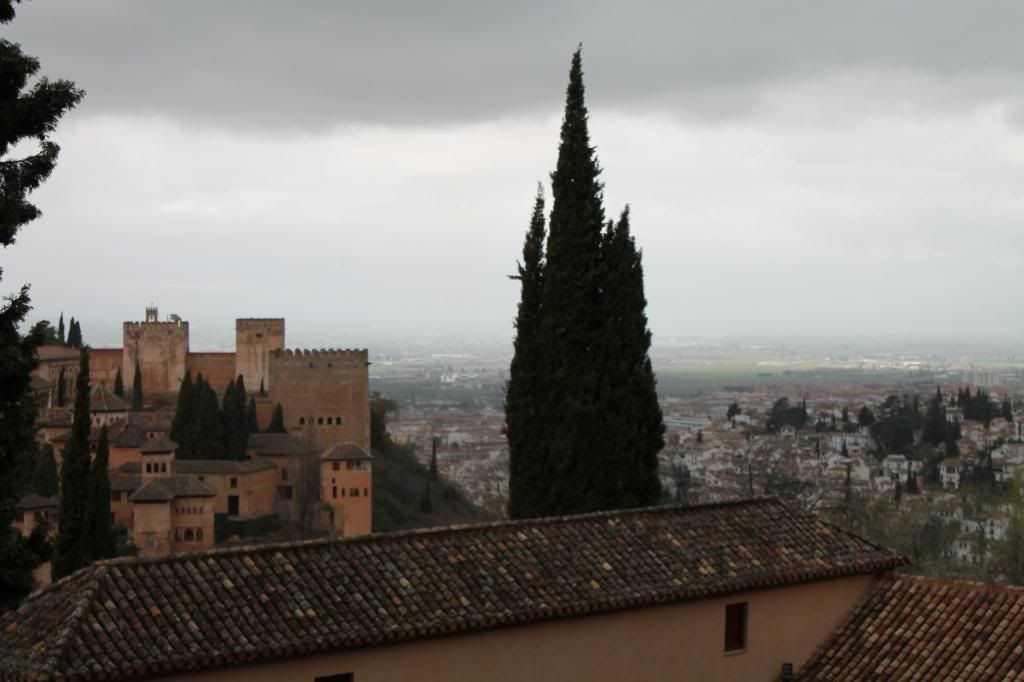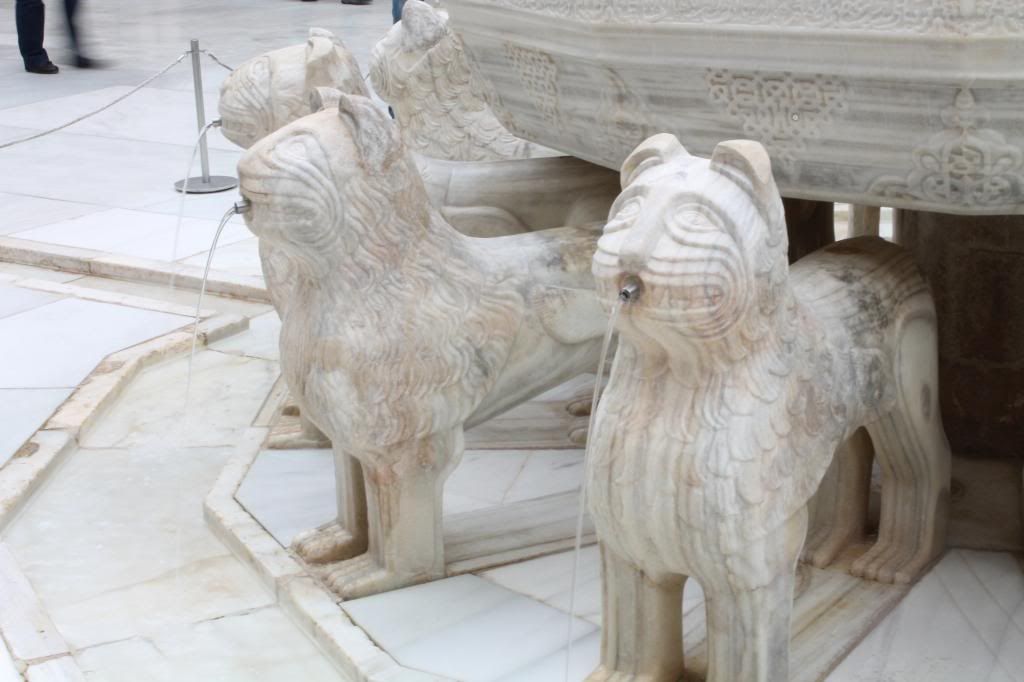 After several hours touring the Alhambra we headed for the Mirador, a place across the valley from the Alhambra where you can see the Alhambra. Kendra had read that it was President Clinton's favorite spot and had an amazing view. I had read in my tour guide that it was dangerous to go up through the neighborhoods during the siesta. We went up after 5pm but still felt spooked about the warning in my book. On our first two attempts we got lost and ended up back at the bottom of the hill. I looked at the map one last time and we made another attempt, this time success! After a dicey moment with some creepy guys we found the top. There was a good view, people playing music, and people selling jewelry, but we didn't love it.
It started raining as we got back to the main drag. We made a quick pit stop into H&M to buy shorts and tights. EVERYONE was wearing shorts with tights in Barcelona and I wanted to fit in... Only no one was wearing it in Granada so I waited till Madrid to try it out.
As we made it back to our hotel we ran into a Holy Week procession. This was our first encounter with the masks and robes.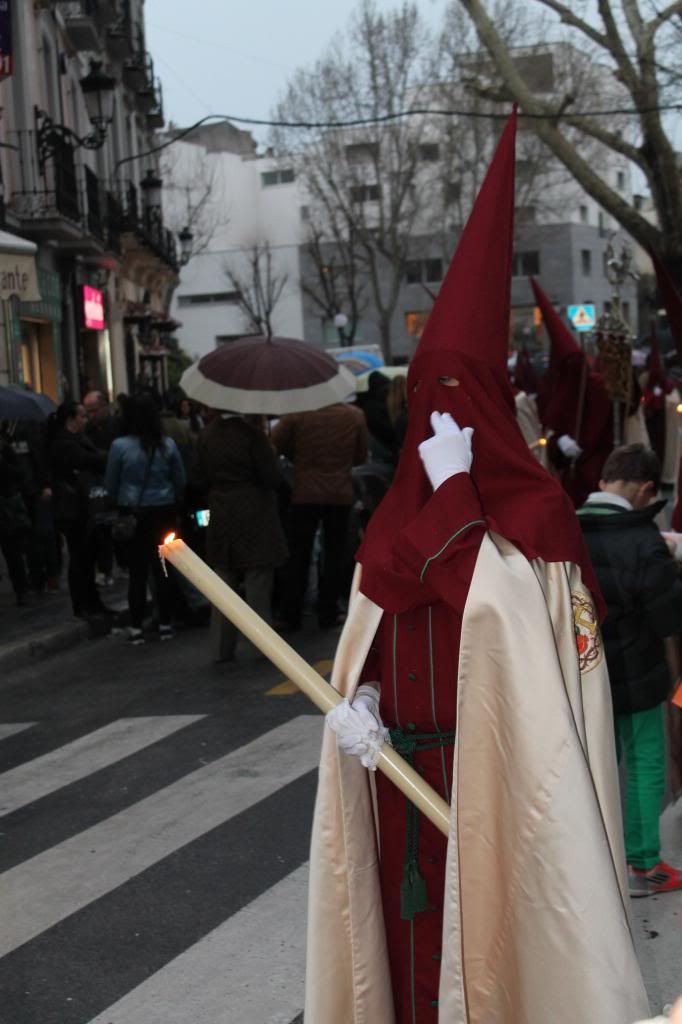 We waited around for a bit, but then it really started raining and we were in deep need of our siesta. After a nap we headed out for dinner. Luckily (since it was still raining) our hotel was on a street of a million restaurants. We did a bit of tapa/vino/cerveza hoping that night. All of the places were playing religious procession music and had the procession footage on TV. The second place we went to (which we affectionately called the Jesus Bar) was covered in religious flyers and pictures. We ordered a cerveza and received the best free tapas of the trip. It was sort of a brushetta with crumbled egg on top and some crispy chips on the side.
Kendra's Dad had hooked us up with an awesome room at the Best Western. We had the penthouse which had two balconies. One out of the bedroom and one out of the bathroom. So I took this picture from our bathroom:
yes we had a view of the Alhambra from our bathroom