I wasn't planning on running the Rock n' Roll USA Half Marathon again this year, but I got an email from them stating the finish line band would be
The Head and the Heart
. I didn't know much about them, but I knew that several of my friends were huge fans. So after sending an email alerting them of the news they were all on board. They added a 5K option this year so four of my friends signed up for that, but two friends wanted to do the half so I knew that is what I would be signing up for.
My training was less than ideal. The weather this winter in DC, like much of the country, has been miserable. I'm not one to run outside when its below freezing or when there is tons of snow or ice on the ground, which meant I was running on the treadmill a lot, which meant I was running shorter distances. I got two 10.5 mile runs in so I knew I'd be able to finish and that was good enough for me.
Race morning was cool, but was the best weather day in a week and two days later we got the most snow of the winter. So race day weather was perfect. I woke up in plenty of time, but fooled around like normal and headed down with just enough time to bag check and get in to the corrals. Too bad I also wanted to stop at the porta potties along with thousands of my other runner friends. After waiting a bit and running to some further away and then running back, I made it to my corral #6 after it had already left. Luckily I was able to walk to the front and slip in with #7, which was probably a better spot for me given my poor training.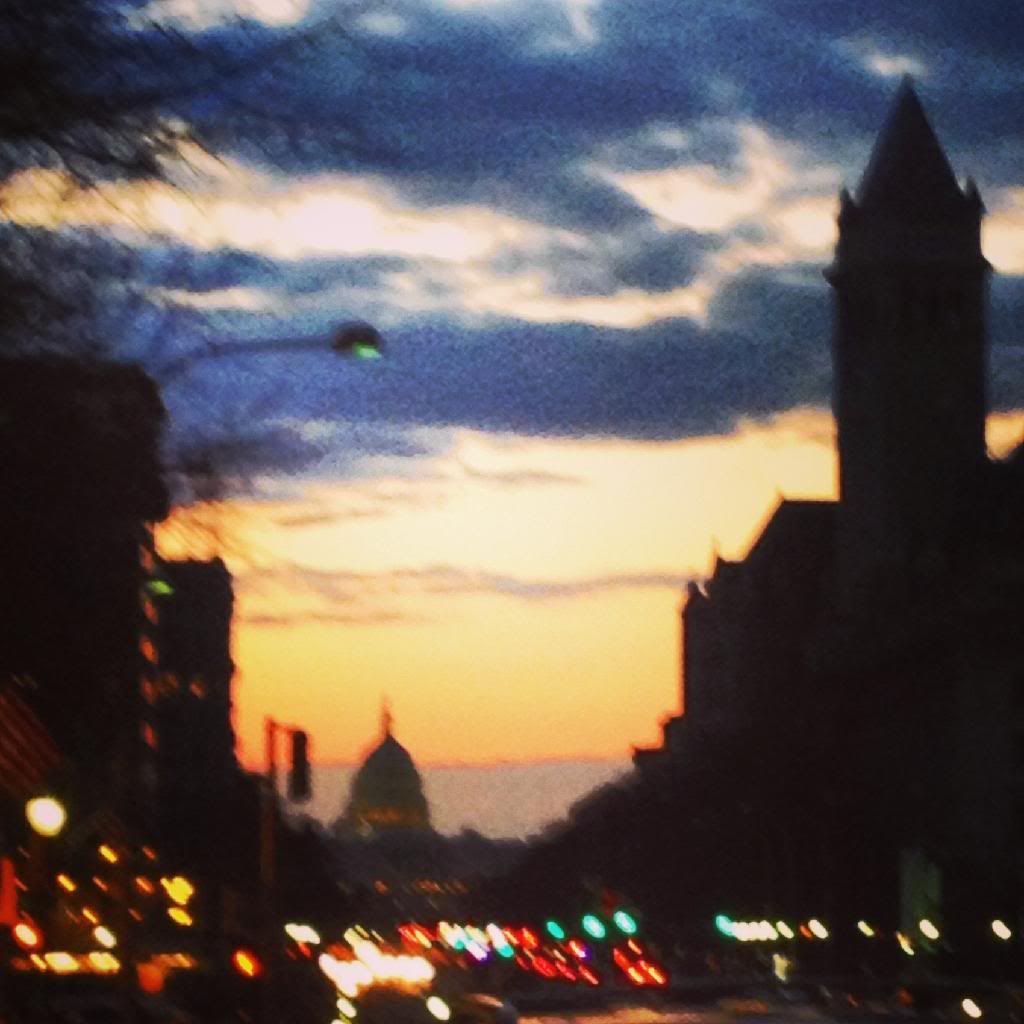 race morning sunrises are the best
My watch was off the entire race, which just confused me. It ended up a mile off! Luckily I had it displaying total time elapsed the entire time, so I could do my own math with the mile markers, which mostly confused me more, but helped me push the last three miles.
The course was the same as last year (other than a slightly different finish), which I actually liked. I knew what was coming up and could look forward to hills (up and down), bands (love the drums by Howard), and my friend Hannah! She took this lovely photo while doing some amazing woo whooing.
my gloves make a great thigh growth
While not my fastest, I finished in 1:56 and never felt like dying. In fact I enjoyed myself enough to sign up for the Nike Half in April.
After the race I met up with all my runner friends to watch The Head and the Heart. They put on a great high energy show for 10 in the morning. They performed for over an hour. I was joking that it was the best concert ever because everyone was polite runners and there weren't any drunks bumping in to me. But really it was also pretty good music.
After the show we headed out to brunch. Races are always better with friends.
Jenn and I after our races