I've fallen a little behind in blogging, but instead of skipping the last few weeks, I'm just going to let you know what has been going on.
I was in Missouri for the 4th of July so I joined my sisters, dad and cousin for a 5K in Warrensburg, MO. For the occasion I stopped by one of the tourist shops downtown DC and picked up some 3/$12 USA t-shirts for the family.
The race was small for DC standards but there were probably 60 or so people running and some walking. The race organization was a little willy nilly. They told us to line up at the starting line and soon after we got over there we were just chatting and the air horn went off for the start with no warning. I did an actual jump in the air what is going on dance then set off.
With in a few feet my sister Kristen pulled ahead of me along with two other girls. I settled in and after the first two blocks ran the entire race without anyone near me. The first part was a small loop that brought us back by the start, which was nice because we had a small four person cheering section rooting us on. After the first loop it was a long straight away, a larger loop, and a short straight away back to the finish. The entire route was rolling hills. I kept thinking I should catch my breath on the down hills, but then I would think instead I should try to take advantage of the downhill. In the end I think I did a bit of both.
At the turn to the larger loop I looked back and didn't see anyone behind me and the girl in front of me had also created a bit of a gap. So I just tried to push myself.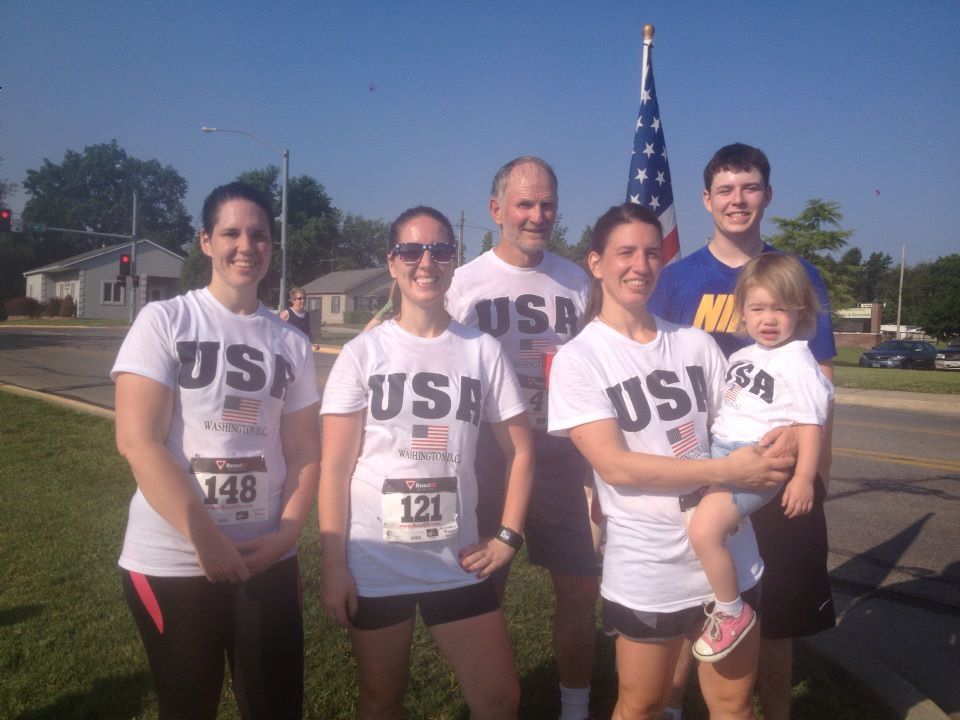 patriotic running
I finished as the 4th Female in 23:42! My first 5K under 24 minutes. This year they had two age categories, 18 and under and 19 and over. The first place female and third place were both 18 and under so my sister Kristen and I came in first and second for 19 and over female. My cousin Matthew also came away with a second place in 18 and under males.
medal winners and a Gretchen