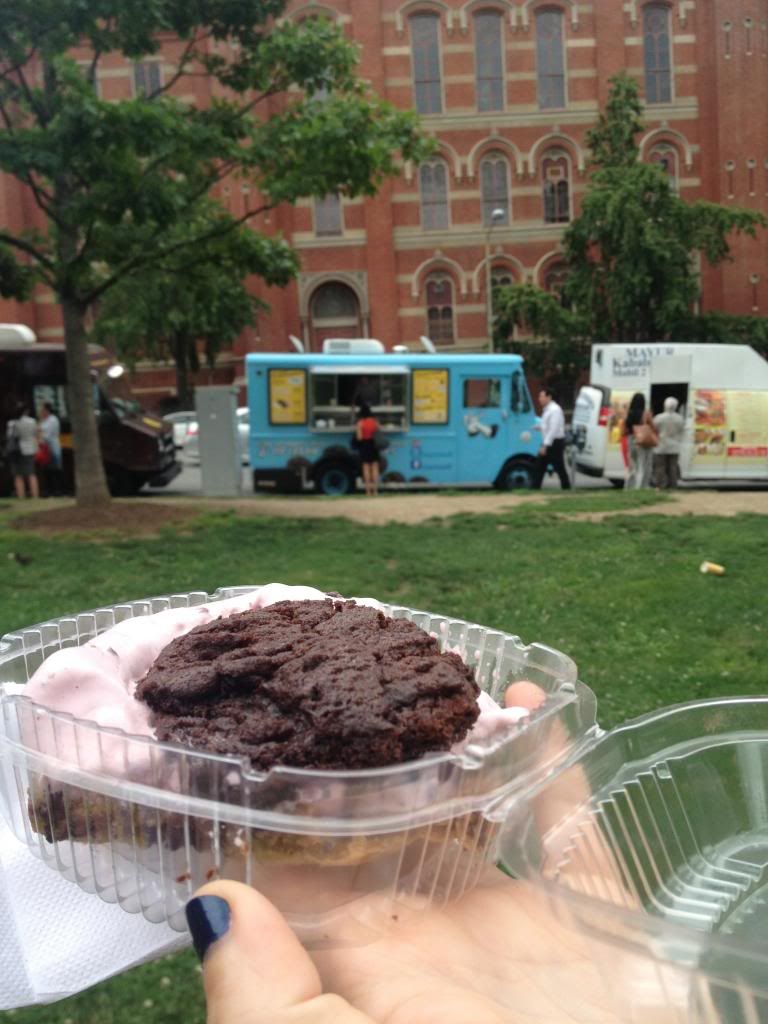 Today for lunch I had an ice cream cookie sandwich. Well it was for desert, but I should of just had the one sandwich. I headed with a coworker over to Franklin Square to finally track down the Captain Cookie and the Milkman truck. For $4 you pick two cookies of your choice and an ice cream flavor. I chose a chocolate chip cookie on bottom, a Nutella cookie on top, and black cherry ice cream in the middle. The Nutella cookie really just tasted chocolately, but both cookies were soft and gooey. The black cherry ice cream was my second choice (the daily special blueberry ice cream was sold out), but was full of flavor. The Nutella cookie was much smaller than my chocolate chip cookie, which made for a messy sandwich from the beginning. I had to go back for a spoon to eat most of my ice cream that squished out the sides.
Captain Cookie also sells cookies without the ice cream and about 5 different types of milk.
All and all it was delicious. We both thought that it was pretty sweet and a pretty large undertaking and that next time we might just get a chocolate chip cookie... because they were pretty close to perfect.
And that concludes my longest food review ever... and yes it was based on an ice cream cookie sandwich.